premium room features
Mike Homes premium features
- Best location to enjoy Seoul, eating, drinking, shopping
- SAFE AREA
- Free portable wifi as well as free wifi at home
- 1min to Gangnam Stn, 3min to Airport shuttle bus
- Queen bed made new every reservation
- Clean new building
- Rooftop/Amazing View
- Premium Gym (3min distance, 9USD/day)
- Washing machine and dryer
- Full kitchenware for cooking
- Storage for early check-in or late check-out
- Big enough for 2 people to stay
- Parking (message me) 1hr/1USD
- Free extended late check out is available till 12:30pm
Price
- 86,000 KRW per night
- 30,000 KRW one time cleaning fee for checking out
- Portable wifi: Free
- Storage Space: Free
Rooms
The passion
Fit for one, but spacious enough for two, the [Passion room] has a queen size bed, closet, plush armchair, and writing desk with wooden chair.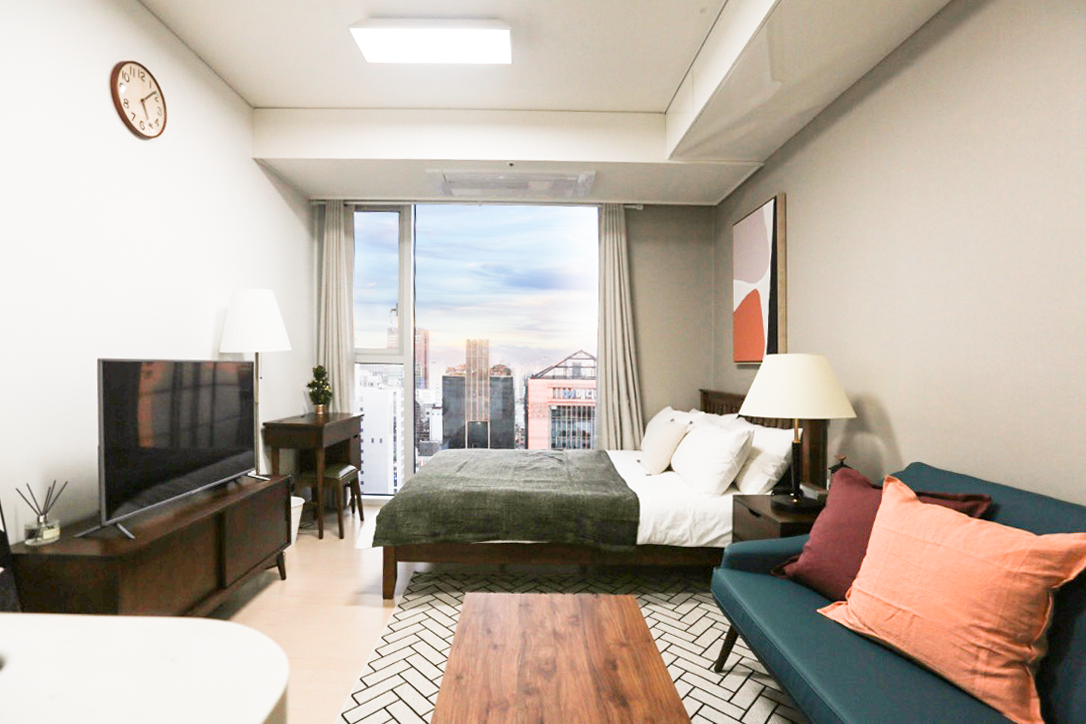 We are here to assist you. Please book now and enjoy center of Seoul with comfortable suite and premium service!
"Travelers looking for a chic place to stay in a chic part of town will revel in the options Mike has made available in Gangnam. Our apartment was easy to get into, had many nice amenities, and Mike goes the extra mile to provide little items that might make your stay easier from toiletries to usb cords and portable WiFi. The building is right off the Gangnam subway exit no. 1, making it easy to identify when moving about town and super convenient for your arrival and departure regardless of the travel mode you prefer. Mike is highly responsive; when you have a question he will likely get back to you within the hour and he's happy to make recommendations. We were thoroughly pleased with this rental and wholeheartedly recommend it as an affordable way to stay in Gangnam."